We directly incorporate your translations into WordPress
WordPress has cemented its dominance as the by far most widely used content management system for websites. As of February 2019 it has a market share of over 60 percent*. It is obvious how essential translations in WordPress must have become. As companies grow and grow internationally and expand to more and more countries, they often lack flawless translations for their web presence.
Do you also run your website on WordPress? Then you will know that in order to enter a new market you will need a high-quality website with a high-quality translation. Did you have problems to export your website content? Did you have to convert your files into a different format? Did your recent translator maybe even damage your coding? Have you been singlehandedly copying and pasting translations into your WordPress? Did the translator render your layout useless? Those days are now over. You can now invite us to your WordPress system. No rework of your layout, no copy and paste, no issues with the file formats or the coding. Now you can really focus on your core business.
Through WPML, we can now directly incorporate the translation of your texts into WordPress. What is WPML, though?
---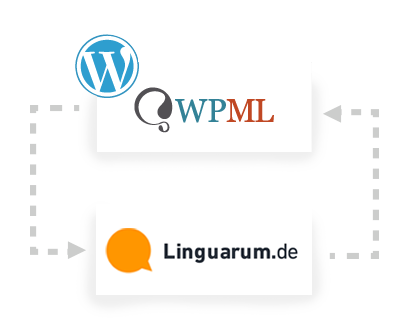 WPML is a WordPress plugin that makes trouble-free translations possible. Through WPML, our professionals can translate your website into the requested language.
All processes that go along with the translation of a website can be easily managed through WPML. The different functions of WPML ensure and boost the quality of the translation and the productivity of our translators.
No programming skills or technical proficiency is needed. You can just install the plugin and invite us into your system.
---
Do you want to calculate the word count to know the extent of the translation you need? WPML makes this possible. We gladly provide you with a quote for your website.
Do you want to gradually make your website available in several languages? No problem, we gladly translate your website according to your needs and time schedule.
Do you have new content on your website that needs to be translated? Also no problem, we will assign this task to our translators who will take care of the updated version of your website.
Did you only make small adjustments to your website that still need to be translated? We can also complete these small tasks for you. Our project management and our translators are always at your help and support you in the gradual construction of your international website.
We only charge 0.01 USD per word premium for translations in WPML. You can be sure of the transparency of our prices. Please install the following plugins to invite us to your system:
WPML Translation Management
Do you already have a WPML plugin? Then you can request a token for free. We then gladly prepare an offer for you.
---
*source: https://de.statista.com/statistik/daten/studie/320670/umfrage/marktanteile-der-content-management-systeme-cms-weltweit/