With WPML, we are able to integrate your handmade translations directly into WordPress
Do you manage your website through WordPress? Then you probably know that for a successful website in a new market, high-quality and hand-made translations are necessary.
Have you already had to deal with problems in the past regarding the export of your website texts and had to convert the texts into other file formats several times? Or has the coding ever been damaged during the translation of your website? Complicated insertion of several texts and the fight against a completely damaged layout has luckily come to an end because you have the opportunity now to invite us into your WordPress system.
The WPML tool offers the possibility to easily and directly incorporate translations of your website into WordPress.
Which advantages does WPML offer?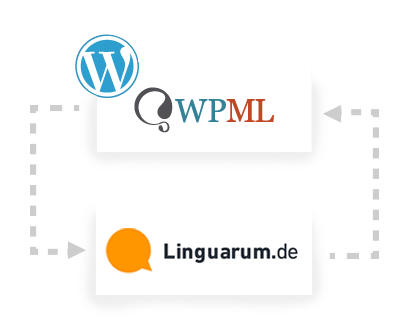 WPML is a plugin for WordPress, which enables easy translation into your desired language directly in the Content Management System (CMS). This gives you the security of knowing that your texts, no matter of which field, will be edited by linguistically and technically qualified translators, while you can continue to focus on your core business. Content can be automatically exported, edited and replaced directly on the website. So in turn, you are guaranteed to get a personalized and easy-to-use translation service for your website.
How does it work?
If you do not already have the WPML plugin integrated in WordPress, use the following guide for an easy integration of the plugin: getting-started-quide.
Do you already have the WPML plugin? Then you can request a free token  from us. Further, we would be happy to create a quote for you and send you the activation code, which you have to enter in your WPML plugin under Translation Management. After you have selected the text which has to be translated and the target language, the content is automatically exported and forwarded to us. This enables us to start the project and deliver the desired translation directly to your website in a short time.
Word count and costs
In order to provide you with an accurate quote, the word count is of course one of the most important factors. The best way to determine the volume is to use the Website Word Count Tool in WPML. You can then contact us at the following e-mail to receive an exact quote.
For translations into WPML, we charge a surcharge of $0.01 per word. You can be completely sure of our price transparency.
Our translation and project management team looks forward to working with you and supporting you in your project. We are happy to answer any questions you may have. Please feel free to contact us at any time at the following e-mail address: [email protected] or call us at +44 20 3139 9070.