Cross-revisioned workflow for flawless translations
We believe in people and we also believe in teams. Everybody has different gifts, and the collaboration of talented people can result in delivering excellent outcomes. So one of the most important features of Linguarum with regards to quality support is the cross-revisioned workflow system.
Our system enables the selected translator and proofreader to take on shared jobs.
1. Initial translation
2. Proofreading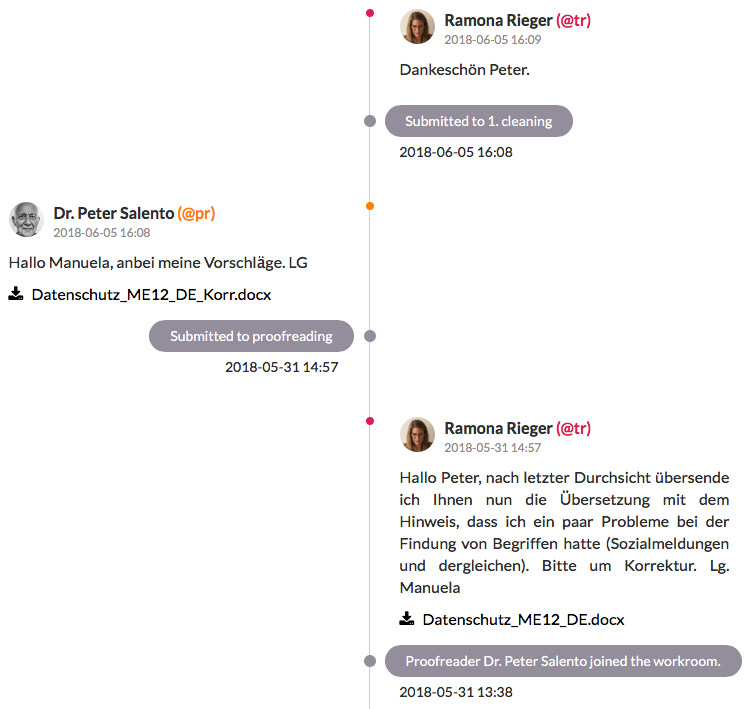 3. Clearing and delivery of final translation
There are 3 stages of the job to ensure the highest quality:
1. Translator working
Any time you want to check the status, you can follow up in which state the project is at that moment. The status translator working means naturally, that the first version of the text is being produced.
2. Proofreader working
If you see this status, you know the job is in the second phase. The translator assigned the task for the proofreader to check the initial text and make suggestions of corrections or adjustments. No e-mails, everything happens within the system! Once the proofreader is done with it, the status will be changed to:
3. Cross-revision: clearing
(without any e-mails, either). This is the last phase of the job. Once the translator recieves the initial text with the comments of the proofreader, they make the suggested corrections and adjustments. This 4-eye principle is the guarantee of a flawless work and a growing business: to make sure there are no errors in a text you deliver to your client. Even if you are working with the best people, they can make mistakes. To avoid this leading to losing your clients, all you need is this function: cross-revision.