Business Translation: Company Formation, General Business Terms and Conditions, Business Plan
Personality
As the result of the market globalisation, boundaries are disappearing: Business translations are more important than ever before. There are many ways to make a company global: Being understood is the most important.
Speak to all your clients and partners in their native language in order to have more success on the global market! We offer the linguistic competence in order to help you in the language area as you expand your international presence or compile information about your markets and your competitors.
Culturally Trained and Proper
This is above all then important if you want to address clients from various countries in which other customs and norms are prevailing. We will effectively adapt your business to various languages and cultures!

Experts in the Technical Fields
Our professional translators possess a high degree of knowledge of legal and business terminologies and translate exclusively into their native language. In the event that no German equivalent can be found in a foreign language definition in a dictionary, then terminology research becomes indispensable. In this regard, the compiler–thus the person who searches for and lists such terms–must precisely research what the specific words mean in both the target language as well as also in the source language and ultimately find the technically-correct terms. Our translators maintain the most modern terminology databases, so-called "translation memories" and glossaries in order to ensure consistent translation across multiple projects. We would be glad to create an individual database with all specialised terms and terminologies for your business matters for your company.
More than One Translation
Localisation continues to be an important aspect of translations. A translation is only a text as long as it has not been adapted to the legal and cultural particularities of the country of the target language. Precisely in business dealings, it is important to honour formalities in contractual agreements and documents because the failure to do so may result in the documents being rendered null and void. Do you need help with legal translations or with translations in business, retail trade and finance? Our professional specialised translators would be glad to support you!
We Will Translate the Following for You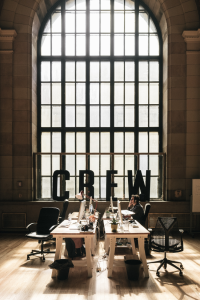 Company reports
Company presentations
Corporate mergers, company formation agreements
Leasing, purchasing or rental agreements
Business e-mail correspondence
Advertising texts for brochures, flyers and websites
Sales documents, product catalogues
Press releases, PR texts, marketing campaigns
Balance sheets and financial reports
Audio- and video-tapes
Advertising texts for trade fair booths
We translate particularly for partnerships, corporations as well as small and medium-sized businesses.
We would be glad to provide you with a free-of-charge test translation of 150 words. Simply talk to us and have yourself advised by our trained Project Managers.
For a non-binding quote, scroll up to our price calculator or write us an e-mail at: [email protected].
We look forward to a future cooperation!
Business Translations which have been Recently Done by the Linguarum Team:
Data protection declaration: Translation from German into Danish, French, Spanish, Hungarian, Slovakian, Italian, Dutch, Polish and Swedish; 2250 words
Business plan translation, 37 pages from German into English
Translation of company documents from French into German, 8270 words
Translations of process sequences from French and English into German
Company presentation, 32 PPT slides from English into German
Shareholder update, 1-2 pages per month from German into English
Translation of employment agreements from Dutch into German, 23,800 words
Translation of business meeting minutes from Chinese into German, 4600 Chinese characters
Leasing agreement from German into English, 17,121 words
Translation of business agreements, 17 pages from Japanese into German
Translation of brochure for air-conditioning systems, 34 pages from English into German